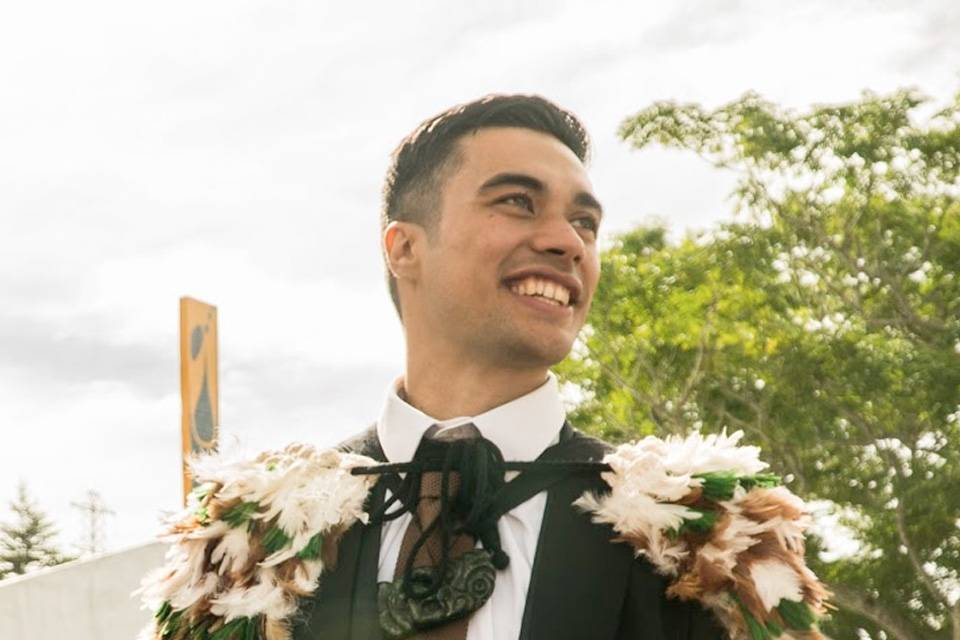 Uenukuterangihoka Jefferies
Tāwera Scholarship Recipient
Uenukuterangihoka Jefferies wouldn't be in a career he loves and is passionate about without experiencing failure first.
It hasn't been a straight path for the 26-year-old (Te Whakatohea, Te Whānau a Apanui, Ngāti Awa, Ngāti Raukawa, Ngāti Maniapoto) but he says for every setback, it gave him clarity and drive to pursue what he really wanted to do.
Growing up in Opotiki, he followed his older brother to Hamilton Boys' High School where he finished his senior years.
"It was a huge transition and it was very difficult for me and I excelled in the other things but not necessarily in my academics. My father puts his influence on us and tries to give us the best opportunities as he's a businessman and was also a teacher".
Again, he joined his brother at the University of Waikato and was the recipient of the Tāwera scholarship.
"So, I followed my brother's footsteps and did a Bachelor in Management, majoring firstly in Accounting and then Te Reo Māori but… that was my dad pushing me through that avenue and it didn't turn out well," he says.
Uenuku started to think about where he was going in terms of his career and decided to change his major to International Management which was very difficult. He failed a lot and didn't enjoy it so he took a year off, lived in Rotorua and enjoyed the freedom. He was able to then realign, refocus and determine his goals.
He finished his degree at Te Whare Wānanga o Waikato and it was connecting with his Ngāti Maniapoto side where he discovered what he is passionate about. He is currently the communications coordinator and videographer for the Maniapoto Māori Trust Board.
"I want to become an indigenous film maker possibly. But I am starting small, very small, taking what I can and hopefully from that, if work increases then I guess you get to choose your projects and from that hopefully maybe a short film, going on to hopefully making something meaningful and worthwhile especially for Māori".
Uenukuterangihoka says no matter which career direction he went in, he always felt supported by Te Pūtea Whakatupu.
"It's whānau. You have people like Karleen who are so committed and invested and that's when you see connections really establishing themselves, it's so natural, it's organic and it's crazy," he says.
Uenuku says the whānau at Te Pūtea Whakatupu Trust try to pick their strengths and harness that and no matter what you choose to follow they continue to help you grow and even to this day Karleen still checks up on him and the whole idea of whānau has stayed with him.